Copper Nickel Pipe Fittings Manufacturers.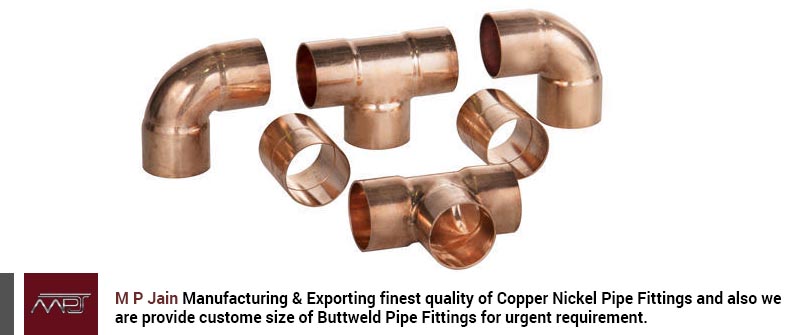 Highly acclaimed Manufacturers, Stockists, and Exporters presents best prices ever on ASTM B122 Copper Nickel Buttweld Fittings
We are specialized manufacturers and suppliers of customized ASME SB122 Cupro Nickel Buttweld Pipe Fittings as per customer's specifications. Our prime Supplying Regions are Africa, Middle East Asia, Europe, Asia, South and North America, South Africa.
Copper Nickel Buttweld Fittings Specifications
| | |
| --- | --- |
| Specifications : | ASTM B122, B171, B466, B467, ASTM B366 / ASME SB366 |
| Dimensions : | ASME/ANSI B16.9, ASME B16.28, MSS-SP-43 |
| Size : | 1/2″ to 24″ NB to 24″NB in |
| Type : | Seamless / Welded / Fabricated |
| Bending Radius : | R=1D, 2D, 3D, 5D, 6D, 8D, 10D or Custom |
| Thickness : | 5s, 10s, 40s, 80s, 10, 20, 40, STD, 60, 80, XS, 100, 120, 140, 160, XXS available with NACE MR 01-75 |
Copper Nickel Buttweld Fittings
Seamless/Welded 100% Radiography Tested
Products
Size
Copper Nickel Elbows – Long Radius
Copper Nickel Stub Ends
Sizes 1/2″ – 24″
Copper Nickel Elbows – Short Radius
Copper Nickel Crosses
Copper Nickel Reducing Elbows
Copper Nickel Reducing Crosses
Copper Nickel 45° Elbows
Copper Nickel 180° LR Return Bends
Copper Nickel Tees
Copper Nickel 180° SR Return Bends
Copper Nickel Tees
Copper Nickel Pipe Bends / Piggable Bends
Copper Nickel Reducers
Copper Nickel Couplings
Copper Nickel Concentric Reducers
Copper Nickel Pipe Nipples
Copper Nickel Eccentric Reducers
Copper Nickel 90° LR / SR Elbow
Copper Nickel 3D Elbow
Copper Nickel End Caps
Copper Nickel 5D Elbow
Copper Nickel 45° LR / SR Elbow
What is a Copper Nickel Pipe Fittings
Cupro Nickel called cupro-nickels, there exists a range of different copper nickel alloys that possess different properties and hence are suited to a range of different applications. Some of the better known copper nickel alloys include:
Copper with 10% nickel
Copper with 30% nickel
Copper with 25% nickel with 0.05-0.4% manganese
Copper with 45% nickel (also known as constantan)
All copper-nickel alloys consist of only one phase as the copper-nickel binary system exhibits complete solid solubility.
Copper Nickel Buttweld Pipe Fittings are extensively demanded their precision dimensions. These products are assured for their seamless finishing. We have put forth for our clients a vast assortment of these products. We offer these products in different grades Cu-Ni 90 / 10 and Cu-Ni 70 / 30. It also offers some best features to offer such as high tensile strength, rust free, easy to fit and more. These are also made to perfection by our sedulous professionals who possess rich knowledge in this domain. Meanwhile, these Cu-Ni Buttweld Pipe Fittings are also being offered in different sizes and shapes to our customers.
ASTM B122 Copper Nickel Buttweld Fittings Types
Below are mostly used butt weld fittings, click on below links to get dimensions & diagrams of Copper Nickel Pipe Fittings:
Copper Nickel Pipe Fittings Application Industries
Off-Shore Oil Drilling Companies
Power Generation
Petrochemicals
Gas Processing
Specialty Chemicals
Pharmaceuticals
Pharmaceutical Equipment
Chemical Equipment
Sea Water Equipment

Heat Exchangers
Condensers
Pulp and Paper Industry
Pharmaceutical Equipment
Chemical Equipment
Sea Water Equipment
Heat Exchangers
Condensers
Pulp and Paper Industry
Why Choose M P Jain Tubing Solutions LLP
Why give multiple orders to several inventories and manufacturers when you can spoil yourself for an array of choices all under one roof? Yes, we M P Jain Tubing Solutions LLP have an in-house, fully modernized manufacturing unit at Mumbai where that produces customizable products that are fully certified and 100% durable. We are manufacturers and suppliers of ASTM B122 Copper Nickel Buttweld Fittings that exude an unsurpassed level of resistance to stress corrosion cracking and to alkaline solutions as well that may prove a boon to your chemical and nuclear industry.
We are regularly supplying Copper Nickel Pipe Fittings to many Leading Industrial units consisting of Chemicals, Fertilizers, Petrochemical Plants, Refineries, Paper Mills, Cement Plants, Sugar Mill, Fabrication Units etc. The organisation has pioneered its operations in 1972 to supply Ferrous & Non-Ferrous Metals, we have experience in this field for more than 4 Decades.
We use modern machinery and latest technology to fabricate ASME SB122 Copper Nickel Buttweld Pipe Fittings product. Our products are manufactured under the supervision of the professionals, who carry quality check at every stage of production. These equipment are preferred by our clients due to their unique features including reliability, durability, easy operation, reasonable price, dimensional accuracy, high-end finishing, etc. We are committed to providing complete customer satisfaction when it comes to the quality, performance, timely delivery and prices of our products. We are an ISO 9001:2015 certified company and this accreditation is due recognition for our hard work and commitment. Apart from this, we always keep on upgrading our products according to the latest market trends. Customization facility is also provided as per the clients' requirements.
Some of our specialities that make us a profitable business partner for our clients are:
Superior quality products
Timely deliverices
Proven execution of small as well as large batch orders
A design solution to design problem
Custemer focused approach
Keeping efficient and friendly customer service as the top concren, M P Jain Tubing Solutions LLP provides ultimate flexibility in fulfilling each & every customer requirement irrespective of the size of order. Most of our clients are doing bussiness with us since years, which indiactes higher levels of customer satisfaction. We always welcom any queries or suggesions from our clients to improve the services and hence to serve them better.
Cities We Export Copper Nickel Pipe Fittings
Mumbai
Thane
Navi Mumbai
Pune
Pimpri-Chinchwad
Vadodara
Kolkata
Gurgaon
Ahmedabad
New Delhi
Bengaluru
Chennai
Surat
New York
Caracas
Howrah
Sydney
Ahvaz
Karachi
Algiers
Chiyoda
Ankara
Ho Chi Minh City

Bhopal
Ulsan
Faridabad
Houston
Dubai
Seoul
Hyderabad
Singapore
Abu Dhabi
Tehran
Calgary
Noida
Riyadh
Vung Tau
Al Khobar
Atyrau
Lagos
Hanoi
Toronto
Hong Kong
Rajkot
Brisbane
Los Angeles

London
Coimbatore
Jakarta
Istanbul
Bangkok
Kuwait City
Sharjah
Muscat
Edmonton
Busan
Mexico City
Doha
Jeddah
Manama
Montreal
Thiruvananthapuram
Milan
Moscow
Dallas
Petaling Jaya
Ernakulam
Visakhapatnam
Ludhiana

Aberdeen
Cairo
Geoje-si
Perth
Santiago
Chandigarh
Indore
Kuala Lumpur
Rio de Janeiro
Dammam
Melbourne
Madrid
La Victoria
Granada
Courbevoie
Al Jubail
Port-of-Spain
Secunderabad
Gimhae-si
Haryana
Colombo
Lahore
Bogota
Countries We Export Copper Nickel Pipe Fittings
India
Saudi Arabia
Bangladesh
United States
United Arab Emirates
Canada
Angola
Argentina
Austria
Azerbaijan
Pakistan
Peru
Chile
Yemen
Hong Kong
Croatia
Czech Republic
Estonia
South Africa
Nigeria
Mexico
Turkey

Spain
France
United Kingdom
Indonesia
Israel
Iran
Kuwait
Mexico
Malaysia
Nigeria
Serbia
Singapore
Taiwan
Gabon
China
Finland
Greece
Italy
Japan
Hungary
Algeria
Belarus
Belgium

Chile
Venezuela
Ecuador
Netherlands
Brazil
Colombia
Ghana
Iran
Denmark
Poland
Australia
Afghanistan
Bahrain
Portugal
Switzerland
Libya
Romania
Thailand
Bhutan
Bolivia
Bulgaria
Slovakia
Vietnam

Costa Rica
Egypt
Iraq
Jordan
Kazakhstan
South Korea
Sri Lanka
Lithuania
Norway
Oman
Philippines
Poland
Qatar
New Zealand
Sweden
Trinidad & Tobago
Tunisia
Ukraine
Kenya
Lebanon
Morocco
Mongolia
Russia